First up – congratulations on being interested in serving older Canadians. No matter what type of service you provide or represent, chances are a Senior may require your services.

We are Lifestyle55+ Network Inc. a Canadian organization owned by Paul Cutajar and Esther Goldstein. Having worked in the senior sector from very different positions, Paul and Esther were able to connect and bring their unique experiences under one roof – with the goal of delivering a one stop shop of services for seniors, their families and professionals.

When did Lifestyle55+ Network Inc. start?
Coming from years of individual experience, Paul and Esther decided to test their relationship and work ethics by entering into a Joint Venture agreement in 2019. Esther owned the Senioropolis retirement home guide and Paul was Canada's first MASTER Accredited Senior Agent™. Within the Joint Venture 1st year term, they realized they were onto something and were very comfortable with the respect, knowledge, ethics, professionalism and drive to formalize the agreement by incorporating. They were fully operational in 2020 and quickly moved on building and implementing their vision and programs. With over 35 years of combined experience in working with seniors, Paul and Esther began building several programs that would meet the challenges of both professionals and families.
4 challenges they set to meet:
1.When searching for retirement housing, were results professional and unbiased?
NO!
2.When families faced a transitioning scenario, who could help them navigate?
Very few!

3.How can service providers get in front of their communities within this niche, being seniors? How could they network and refer business?
Only by traditional efforts!

4.What marketing options could be developed and integrated as unique, specifically for the senior marketplace?
Limited options
Lifestyle55+ Network Inc. delivers several programs:
Seniors' Housing Directory: SCA was designed to deliver a very unique look at offering Canada's largest unbiased seniors' housing database. Working on their own diligence, they have amassed an industry specific dataset that can be used by both professionals and consumers with an understanding of the nuances related to housing in retirement and Long Term Care. The directory can be accessed at no charge with a combination of sponsored and unbiased results with limited detail – however full access is available through a monthly membership – cancel anytime.
Seniors' Services: Understanding that senior consumers (and their families!) are always seeking housing, this type of transition will always require additional professional assistance. Therefore, SCA also offers a National/Community based resource provider directory. Here, professional services are able to market themselves within a specific business category within a specific city. This begins to bring the connectivity of housing and transitioning within one online resource, allowing both senior consumers and senior service providers a community of access and resources – a win for all! The many professional service that can purchase a sponsored listing (free text listings also available) include but not limited to: Lawyers – Seniors Real Estate – Downsizers – Movers – Mobile services – Accounting – Contractors – Security – Transportation – Food providers – Therapist – Accessibility – Age in place and more… www.SeniorCareAccess.com
Seniors' Consulting: Seniors and their families have and always will struggle to identify and navigate the unique challenges aging offers. Although this aspect of the industry offers fragmented guidance, SCA delivers a comprehensive consulting program designed to be person centred and fully inclusive, able to deliver guidance in all areas a family would seek assistance. For a more detailed look at what this covers and how it can benefit you and your organization visit:
Discover more about the program including pricing and service levels:
Have a client you would like to refer to the SeniorCareAccess Consulting program – submit form here:
Professional training and support:
Understanding that building a single service is not going to have an impact in the senior sector that would meet the goals of Lifestyle55+ Network Inc. Professional education would be a conduit to bridge professional services with seniors. Paul already acquired the Accredited Senior Agent program™ and created the MASTERS program with Chris Newell, so it was a natural fit to redevelop and modernize the program to be offered to a broader range of service providers. Lifestyle55+ offers the Affiliate and MASTERS programs through a Live on-line model with affordable fees and memberships.  discover more about the training programs:  Lifestyle55+ Affiliates    Lifestyle55+ MASTERS
Retirement industry marketing and virtual tours:
Having access to the seniors' housing database, we set out to assist many independent and large brands with sponsored listings in the SeniorCareAccess directory plus the ability to offer a safe and modern method for families to preview a community before they commit to a site visit. Having worked in the real estate industry using Matterport, it was an opportunity to bring this technology to the retirement home industry. Slow to change for many, others recognized and embraced the technology BUT that was not enough! We looked at the Matterport program and although globally recognized and #1 in virtual tours we found the user experience to be void of emotion and lacked lead generating options other than to click back to the host website. We partnered with a forward thinking technician and together offered a very unique overlay program that provides for customization – music – contact forms – custom tags and a virtual meet program allowing the salesperson to host a meeting directly inside of the Matterport tour!  Discover more at www.Matter3DPro.com

Seniors Blog site:

The original Senioropolis was created by Esther Goldstein over 25 years ago as a
solution to access senior housing options within her work as a social worker within a Toronto hospital.  It was widely used and referenced as the 'Little Red Book'.  The original housing directory model (Senioropolis) was
expanded and incorporated as the basis of the now SeniorCareAccess directory.  Senioropolis remains a resource as a supportive article site for Seniors and sponsored advertisers on SeniorCareAccess.
Viewers are able to interact with the site for free while SCA sponsored advertisers are able to submit articles/stories/images and events for FREE.
This program benefits resident activity managers, residents, seniors and advertisers.  www.Senioropolis.com
Esther Goldstein
B.Sc., B.S.W., RSW, Lifestyle 55+ MASTER, Certified Ashby Memory Method™ Facilitator, Owner Senioropolis Inc., Partner Lifestyle 55+ Network, Inc., Lead Seniors' Consultant and Trainer for SCA Consulting Program, Part-time Professor at Seneca College.
Esther obtained a bachelor's degree in science from the University of Toronto in 1986 and in Social Work from Toronto Metropolitan University (formerly Ryerson) in 1990. She is a registered member of the Ontario College of Social Workers and Social Service Workers. Esther worked as a hospital social worker in the Greater Toronto Area for over 12 years, primarily with the geriatric population. A significant portion of her work involved counselling senior clients, and their families, about the difficult task of relocating to care homes, and assisting them with the placement process. Out of her own need for information about private sector services for seniors, in 1997, Esther created The Comprehensive Guide to Retirement Living and a few years later, the affiliated website, www.senioropolis.com. The publication became well-known and was often referred to as  The Little Red Book where users could find answers to any question they had about retirement living and many of the homes in Ontario. The book was updated and recreated annually for 23 years. With the transition to www.SeniorCareAccess.com  a few years ago, the scope of what could be provided online far exceeded the annual publication, so the last book was produced in January 2020. In 2021, www.senioropolis.com  evolved into a new type of information site – one containing blogs and feel-good stories contributed by those in the retirement living sector –  and the housing information it previously held, transitioned completely to www.SeniorCareAcess.com.
Esther was a volunteer member of the Stakeholders Advisory Council (SAC) of Ontario's Retirement Homes Regulatory Authority for 6 years beginning in the Fall of 2013. At the end of 2016, Esther was appointed Chair of SAC, a position she continued to hold through the end of 2019 when her term on the Council ended. Additionally, Esther is a past board director of The International Breastfeeding Centre in Toronto.
Esther shares her knowledge through article/blog contributions, media interviews, and lectures/workshops on 'Senior Living Options' and related topics at different venues including retirement homes, community agencies, and private organizations. Always an educator, she has been a social work student placement supervisor several times and has taught at the University of Toronto's School of Continuing Studies. Currently, Esther is a part-time faculty member at Seneca College where she teaches the course The Retirement Home Industry – Overview and Skills in the Social Service Worker Gerontology Program. 
In 2019, Esther partnered with Paul Cutajar. With a shared vision of how to build on the unique services each of them offered the senior sector and those who work in it, they incorporated Lifestyle 55+ Network, Inc. and now offer a new level of service to professionals and consumers, through multiple unique platforms and programs.
Paul Cutajar
Paul Cutajar: Lifestyle 55+ MASTER, Certified Executor Advisor (CEA). Licensed REALTOR® (retired),
Certified Ashby Memory Method™ Facilitator, Essential Conversations Facilitator, Owner of Pivotal Aging Innovations Inc., Partner of Lifestyle55+ Network Inc.
Paul worked for 15 years as a REALTOR® and was the recipient of many top sales achievements. After acquiring the Accredited Senior Agent™ designation, Paul chose to focus his energies on working with seniors in transition and sought out opportunities to expand his knowledge and education, so he could specialize in working with, and consulting for, the older adult population. His quest for knowledge and specialist status led him to work on advanced education for the ASA™ brand, and to become Canada's first MASTER Accredited Senior Agent™. Paul and his associates integrated many of the courses and programs relating to seniors in transitions into a business venture called Pivotal Aging Innovations Inc. This venture would see an inclusion of service programs and networking. Eventually, Paul obtained the program that 'started it all' and took over the provision of training at both the ASA™ and Master ASA™ levels under his brand and company.
With a focus on being person-centred, in addition to obtaining and offering the Accredited Senior Agent™/Master Training Programs to Canadian REALTORS®, Pivotal also provided an opportunity for other professionals to learn how to work with older adults; it developed the W.R.A.F.T. program (Wounds Restraints, Abuse, Falls, Training); and supported seniors with memory loss through, and trained consultants to use, The Ashby Memory Method™. Paul is instrumental in seeking out and partnering with resources that empower care providers and older adults.
2019 was a turning point for both Esther and Paul. They were finally able to connect and use their experiences to bring their unique business ideas and shared vision to life through the launch of their business, Lifestyle 55+ Network, Inc., and the www.SeniorCareAccess.com platform. In 2022 they advanced the ASA training into the Lifestyle 55+ Affiliate Program expanding the educational offering to any professional working with seniors. In working with the Accredited Senior Agent™ MASTERS program, Paul was instrumental in working on projects such as:
Finding gold in the Senior Market Conference
Online Home Auctions (with Transition Squad)
Retirement Home MLS
Marketing with Senioropolis.com and ComfortLife.com
Sell and lease-back program (Sell 'n Stay)
Tradeshows
Membership with the Essential Seniors' Network
CyberSeniors
SmartSizing®
Essential Conversations™
Pivotal – Seniors Mortgage Professional training
Dedication
To my dear friend Chris Newell. Chris and Paul have been involved in working with seniors for over 10 years and began development the idea of the MASTERS program in a coffee shop in Port Credit, Ont. Chris continued to deliver the Pivotal-Accredited Senior Agent™ program as well as the Accredited Seniors Agent™ MASTERS until his retirement in 2022.
Chris continues to be an advisor and friend.
"Congratulations on your retirement and thank you for working and supporting me in the vision of making things better. Without you, I would not not have progressed and have developed all that we are today!"
Paul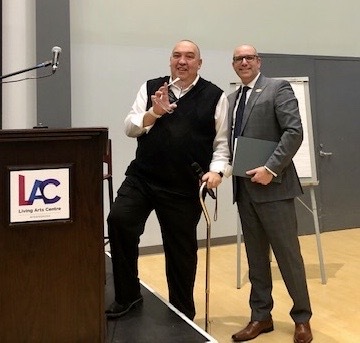 Previous
Next